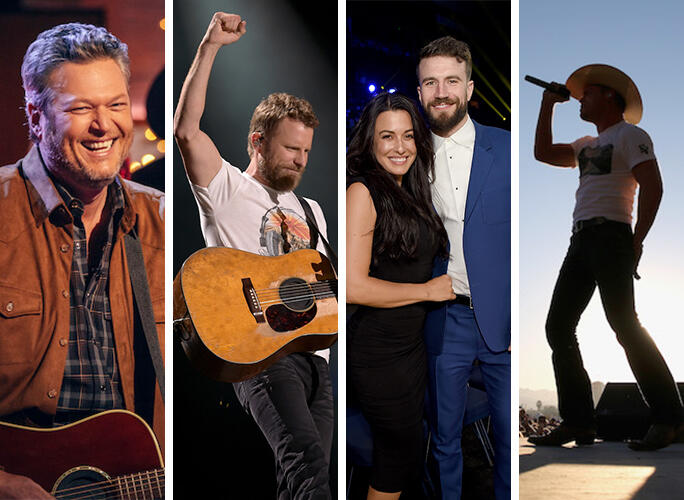 Some of your favorite country artists are headed to Austin, Texas on May 2nd for the star-studded 2020 iHeartCountry Festival!
Taking over the stage at the Frank Erwin Center this year are Blake Shelton, Dierks Bentley, Sam Hunt, Lady Antebellum, Dustin Lynch, Kelsea Ballerini, Kane Brown, Jon Pardi and Chase Rice, plus Hot Country Knights, Bobby Bones and more.
The best part is, even if you can't make it to Austin this year, we've got you covered. Fans can catch all the action at the country mega concert, which is now in its seventh year, during an exclusive livestream on livexlive.com through the LiveXLive mobile and OTT apps for iOS, Android, Roku, Amazon Fire TV, Samsung TV, and Apple TV. The stream will also appear on YouTube, LiveXLive's Twitch channel and LiveXLive's socials. The festival will also be broadcast live across iHeartMedia's Country music radio stations in their local markets, as well as iHeartRadio's iHeartCountry station on iHeartRadio.com and the iHeartRadio app.
This is one show you will NOT want to miss. Keep scrolling to learn all about our 2020 iHeartCountry Festival lineup below.
1. Blake Shelton
Blake Shelton's mom put him in a couple of pageants when he was young. Despite not liking it, he was able to do what he loves and perform songs like Ted Nugent's "Cat Scratch Fever".
He was invited to be a member of the Grand Ole Opry via Twitter.
2. Dierks Bentley
He's a self taught musician, taught himself how to play the guitar at 13.
In 2005 he married his high school sweetheart Cassidy by eloping in Mexico.
3. Sam Hunt
Regardless of success, Sam Hunt chose to live with his band before he got married.
Hunt's debut album, Montevallo, was named after a small town in Alabama, which is also the hometown of his wife, Hannah Lee Fowler. Hannah inspired much of the record.
4. Dustin Lynch
Dustin's first celebrity crush was the iconic Reba McEntire.
Dustin Lynch likes to keep it simple. On a day off he loves to ride back roads, find a field, kick back and listen to some good ol' music!
5. Lady Antebellum
Hillary grew up on tour with thee Reba McEntire.
All members of the group are married and major couple goals.
6. Kelsea Ballerini
Kelly Clarkson is one of Kelsea's biggest inspirations.
She stars in her husband's music video for his song 'Day Drunk', giving us a sneak peak into their vacation.
7. Kane Brown
He refused to be a part of a boy band after the producers of The X Factor insisted. Luckily, he worked hard enough to make it solo!
His first TV appearance was on Ellen where he played his hit song "One Right Thing" with DJ Marshmello.
8. Jon Pardi
As he's gotten older, he drinks more responsibly. His band's idea of "fun" on tour is to keep on working and jamming.
He has diverse musical influences including the likes of Frank Sinatra, Ray Charles, and Dean Martin.
9. Chase Rice
He appeared on Survivor: Nicaragua back in 2010 where he made his musical aspirations known. He would taunt his competitors by singing to them.
His father is his musical inspiration, he found comfort in his music after losing his dad
10. Hot Country Knights
This fun new group is on a journey to take themselves less seriously and have more fun with country music.
11. Bobby Bones
He's known as 'shoe boy' because of his super large shoe collection.